Beta Business Days board 2021 - 2022
The 35th edition of the Beta Business Days will be organized by 6 enthusiastic students from the University of Groningen. With several different study backgrounds, we have a big intelligence pool that can represent all different kinds of beta students for this event.
Interested in becoming the next board? Click here!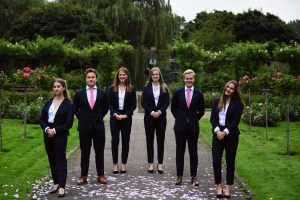 (f.l.t.r.: Suzanne van Wees, Rik Klement, Luna Jansma, Judith Bentvelzen, Bas Perik, Lysanne van Hillegersberg)
Chairman                          Judith Bentvelzen
Secretary                          Luna Jansma
Treasurer                           Bas Perik
Business relations          Rik Klement
Business relations          Suzanne van Wees
Public relations               Lysanne van Hillegersberg